Kagiso Media's Radio brands Jacaranda FM and East Coast Radio are the most consistent and powerful digital platforms in South Africa's radio industry.
They brought Pinpoll on board to get to know their listeners better, generate exciting insights and derive targeted content for their listeners. They are the best example of how to combine our products Pinpoll Tools, Pinpoll DMP and Pinpoll Analytics together.
With Pinpoll Tools they collect opinions from their users and generate newsletter signups. With Pinpoll DMP they derive interests and properties of their users from the collected data and transfer them to other systems for targeted analysis. The whole thing is rounded off with Pinpoll Analyticswhere they can track in real time how the individual contents are consumed by their audiences.
About Kagiso Media
Kagiso Media (KM) is a South African-based media company that includes industry-leading radio and television broadcasters, trade publishers, and exhibition and events companies.
KM's vision is to build a large community with the goal of fostering positive human relationships through the continuous delivery of innovative media and information solutions.
Background
On the occasion of Jacaranda FM's 35th birthday, our client from South Africa came up with something very special. They organized an online voting contest in which they gave away six exciting prizes among all participating users.
The prizes to be won were as follows:
SPAR vouchers worth R5000
Ster Kinekor Vouchers
Nando's Vouchers
Vodacom Headphones
Vodacom Bluetooth Speaker
Jacaranda FM hamper
Link to the site: https://www.jacarandafm.com/shows/breakfast-martin-bester/winner-takes-all-win-ultimate-work-and-play-home-hamper-worth-r20000/
The contest was handled with a poll titled "Everything must go - stand a chance to WIN a gift when you pick a box".

The poll had 35 possible answers, with each answer representing a "box" under which a possible prize could be hidden. This idea motivated the users even more to participate in the poll, since you couldn't know which box would win. In addition, there were 35, of course referring to the 35th birthday.
Other highlights of the poll were:
One form to success
After the user voted, a form appeared over the entire area of the poll. This meant that the user could no longer overlook the form and was even more tempted to provide their contact details.
Furthermore, it was only possible to win a prize in the competition if the user had left his data after casting his vote, so that he could be contacted in the event of being selected as the winner.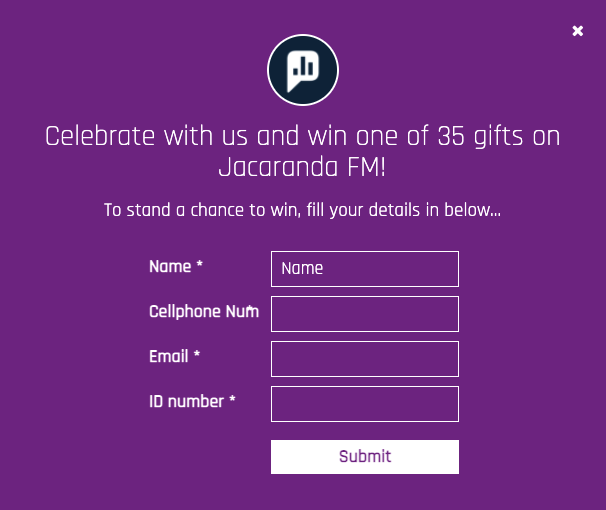 The form itself consisted of the fields:
Name
Cellphone number
Email
ID number
These four fields were marked as mandatory, requiring the user to provide all data in order to submit the form.
Result
Kagiso Media has managed to generate over 30,000 leads in a very short time in a fun way using the above mentioned refinements. If we analyze the success in more detail, it's easy to see why this was successful:
Voting competitions are always a great incentive for users to participate in a poll
The trick that a prize could be hidden behind each box (answer) additionally aroused the curiosity of the users
A great marketing trick: You remember how old Kagiso Media is, right?
Through a clear design and a successful structure of the page, it was immediately clear what it was about
The form was placed over the entire poll so that the user's attention was immediately drawn to it after voting
Only by leaving his data a user could take part in the competition
We congratulate our client Kagiso Media to this success and look forward to more exciting projects with you!
If you are now inspired and motivated to get started with our polls, then request a demo!