Three words that everyone is talking about, but only very few integrate into their corporate strategy and if, really execute upon:
Corporate Social Responsibility
Under the guise of a "start-up", we have paid little attention so far to how we can make a contribution to society. In the first few years you simply fight to survive, everything else is irrelevant.
Our company celebrated its 5th birthday in May, so there are no more excuses, we want to contribute.
As an IT company, you are quickly tempted to say that you hardly harm the environment during the production process. In relation to large corporations that produce goods, this may even be true – my view out of the window sweeps over the high clouds of smoke from voestalpine, a global steel manufacturer that is also based in Linz – but when we take a closer look, we also pollute the environment: employees commute to the company by car and our server infrastructure uses power from sources that we cannot control ourselves. Our Austrian location runs entirely on domestic green electricity, whereas the South African location does not. In addition, we do regular trips to customers by car and plane if it is not possible to travel by train.
The Largest Sources of Pollution in Detail
Server Infrastructure
When choosing the infrastructure provider, we have already made a good choice with Microsoft. Microsoft has been trying to operate the entire company CO2-neutral for many years . To this end, an internal "tax" was introduced in 2012, which has to be paid by financing environmental protection projects. With regard to the operation of its data centers, Microsoft has so far managed to compensate for 60% of the CO2 emissions caused. As this was achieved faster than planned, the tax was almost doubled in 2019 to USD 15 per metric ton. This should enable 70% of the data center emissions to be offset by 2023. [1] By 2030, Microsoft wants to become "CO2 negative" and by 2050, even compensate for all CO2 emissions caused since the company was founded in 1975. [2]
For Pinpoll, this means that 40% of the emissions caused by our servers are currently not compensated for by Microsoft and therefore have to be compensated for by ourselves.
To estimate the CO2 emissions of our servers we rely upon numbers from a study conducted on server emissions, because were unable to use Microsoft's new Sustainability Calculatator due to the lack of an Enterprise Agreement with them. [3] We will update this article should that ever change.
| | | | |
| --- | --- | --- | --- |
| kg CO2/Year | Low Range Server | Medium Range Server | High Range Server |
| EU Region | 555 | 1.295 | 14.801 |
Table 1: CO2 emissions of various server sizes in the EU region.
| | | | |
| --- | --- | --- | --- |
| Server Count | Low Range Server | Medium Range Server | High Range Server |
| EU Region | 9 | 8 | 0 |
Table 2: Number of servers operated by Pinpoll.
In total, we are talking about 6.142 metric tons of CO2 per year for server operations (60% offset by Microsoft).
Office Operations
As already mentioned, we already operate our Austrian location completely CO2 neutral with 98% hydropower, 1.37% wind energy and 0.63% other eco-energy.
In Cape Town, unfortunately, this is far from being the case and that won't change anytime soon. South Africa is one of the top 15 countries with the highest CO2 emissions worldwide and energy generation is dominated by coal with 65.7%, followed by crude oil with 21.6%, renewable energy and energy from waste with 7.6%, natural gas with 2.8%, nuclear energy with 0.4% and hydropower with just 0.1%. [4]
The exact electricity consumption and mix in Cape Town and thus the CO2 emissions per year are unknown for billing reasons. We therefore assume the same value as for the Austrian location with a consumption of 1,798 kWh, which has to be compensated for by 95 % due to the lack of renewable energy sources. [5]
In total, we are talking about 0.539 metric tons of CO2 per year for office operations in South Africa.
Travel
Whenever possible, our employees already cycle to the office and take the train to appointments, the latter both within Austria and to neighboring countries.
Unfortunately, this is not always possible and an arrival by car or plane is necessary.
In 2019, we were driving around 32,000 km by car on behalf of the company (including trips by employees to the office and home). That is a good value already, but with a consumption of 6 liters of diesel and 10 liters of gasoline across the entire fleet, it still corresponds to CO2 emissions of 6,672 kilograms. [6]
In the same year, we caused 7,913 kilograms of CO2 emissions from flights. [7]
Overall, we have to compensate for and ideally, reduce CO2 emissions of around 14,585 metric tons for trips in 2019 and thus as a reference value for future years.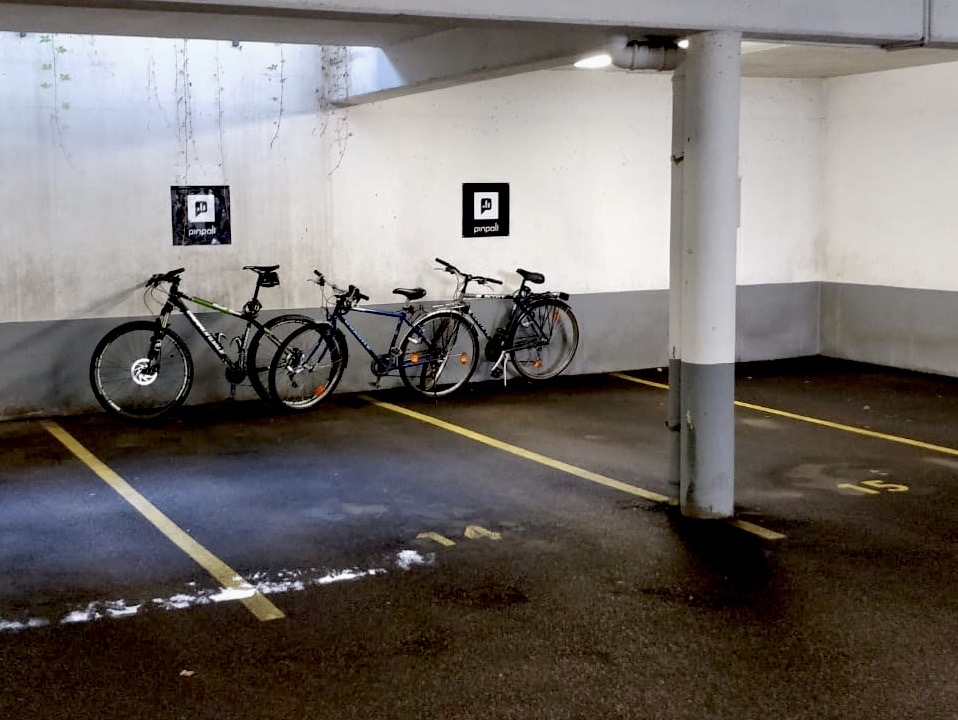 600 Trees per Year
Our calculations show a total and yet to be compensated for CO2 footprint of 21.266 metric tons per year. This value requires action.
For this reason, we have decided to link the scope of our contribution to society and climate protection to the actual use of our products:
We plant a tree for every 100,000 votes cast by our customers as of July 1, 2020.
This means that both our customers, by creating as many polls as possible, but also our users, by participating in as many polls as possible, can influence the planting.
Our customers will soon have access to the number of trees planted in their dashboard and invited to communicate this number to their own users: vote and do good!
Our stated goal is to plant 500-700 trees per year. Depending on the tree species and mixing ratio, up to 2,000 trees can be planted on the 20,000 m² or 2 ha area, available to us. This value is roughly at the same level of effort taken by the city of Linz, who will plant around 400 trees per year routinely and up to 1,000 additional trees in a "tree initiative" over the coming years. [8]
What is special about our approach is not only the direct influence by both customers and users, but also its execution. We don't buy the offset through certificates to protect a small piece of rainforest in the Amazon, but make our hands dirty, sweat and swear twice a year - in spring and especially in autumn when the ground is damp - when planting several hundred trees in a wooded area in the neighbourhood, which is heavily infested by the bark beetle, specifically in the municipality of Feldkirchen an der Donau.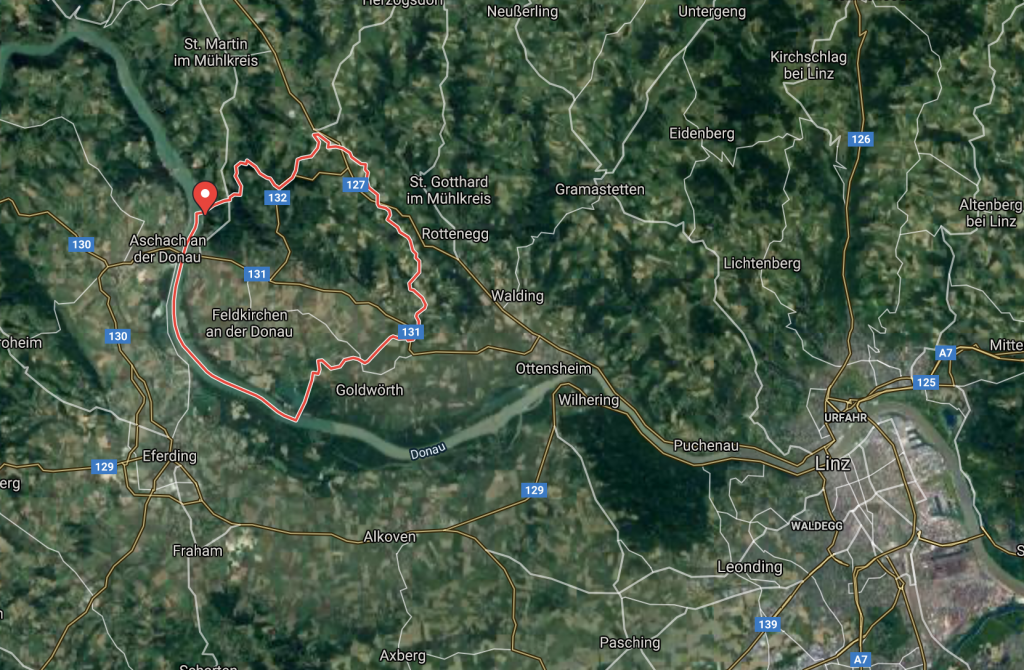 A big thank you goes to our investor who not only provides the forest but also finances the trees, the material and the preparatory work.
A Break-Even for the Environment
This brings us to the crucial question: What contribution can we make through our initiative to plant trees, i.e., how much of the CO2 we cause can actually be offset?
Die Antwort hängt von der Größe der Bäume, dem Boden, dem Alter, der Bewuchsdichte, der Baumart und vielen weiteren Parametern ab. Ein kleiner Baum speichert wenig CO2, ein großer Baum viel CO2. Je größer, desto schneller und immer mehr, dann aber irgendwann wieder weniger, da der Baum nicht mehr in die Höhe, sondern in die Breite wächst. Weiters hängt die Einspeicherung stark von der Anzahl der Bäume pro ha ab, da dies wiederum die Kronengröße bestimmt und auch von der Bodenqualität beeinflusst wird, die wiederum für eine Baumart gut und für eine andere Baumart schlecht sein kann.
We still lack experience for most of the parameters mentioned, which is why we try to estimate CO2 storage by taking into account the age of the trees only. With a young tree of a few years storing less than 1 kg per year and an old oak tree with 200 years storing towards 100 kg per year.
After fully planting the area with 2,000 trees, a maximum of 2 metric tons of CO2 can be stored (~ 1 kg x 2,000). Over the years, this value will increase, on average about 0.5 kg per year per tree or 1 metric ton per year for all trees planted (~ 100 kg / 200 years).
Bei einem – trotz betrieblichen Wachstums und dank weiterer Einsparungen – gleichbleibenden Ausstoß von 21,266 Tonnen CO2 pro Jahr erreichen wir nach etwa 23 Jahren bzw. im Jahr 2043 unser Ziel, sämtliche von uns verursachten Verschmutzungen auszugleichen – quasi unseren Klima-Break-Even. Ab dann tragen die Bäume auch zum Wohle der Gesellschaft bei und zwar mit jedem Jahr ein wenig mehr. Das betrifft nicht nur den Abbau von CO2, sondern auch das Landschaftsbild im Ort und das Ökosystem für viele Tiere – den Borkenkäfer mal ausgeschlossen.
That spirit in mind, please vote, vote, vote - for example right here on Pinpoll X.
You would like to create a poll yourself and thus, contribute to achieving our climate goals?
We are aware that the calculations made would not withstand any scientific examination. It is also clear to us that some areas have been completely neglected (e.g. water and paper consumption in the offices) or have simply been forgotten. Rather, it was an attempt to estimate CO2 emissions by the most important sources of pollution to the best of our knowledge.
---
[1] https://blogs.microsoft.com/on-the-issues/2019/04/15/were-increasing-our-carbon-fee-as-we-double-down-on-sustainability/
[2] https://news.microsoft.com/de-de/co2-negativ/
[3] Estimating Total Power Consumption by Servers in the US and the World: http://www.academia.edu/download/34154461/paper13.pdf
[4] https://energypedia.info/wiki/South_Africa_Energy_Situation
[5] https://www.volker-quaschning.de/datserv/CO2-spez/index.php
[6] https://www.deutsche-handwerks-zeitung.de/kraftstoffverbrauch-in-co2-ausstoss-umrechnen/150/3097/57956
[7] https://co2.myclimate.org/de/flight_calculators/new
[8] https://www.linz.at/medienservice/2020/202006_106526.php