Definition:
A corporate identity or corporate image is the manner in which a corporation, firm or business enterprise presents itself to the public (such as customers and investors as well as employees). The corporate identity is typically visualized by branding and with the use of trademarks,[4]but it can also include things like product design, advertising, public relations etc. Corporate identity is a primary goal of the corporate communications, in order to maintain and build the identity to accord with and facilitate the corporate business objectives.

https://en.wikipedia.org/wiki/Corporate_identity
To the point
For corporate design, you have to consider how to use the logo, color, image, and font in such a way that the recognition value is as great as possible and you stand out from the crowd. In terms of websites, they are indispensable guidelines, so that each element on the page is best integrated into the site and fits the image of the company.
All well and good, but...
Great, now I know what the corporate design is about, but what exactly does this knowledge do for me in terms of polls?
Quite simple: The better and clearer the design of a poll is chosen, the better the interaction rate is in the end. Also, the design and form of a poll should fit perfectly into the existing website.
In our polls, you can already change the colors and fonts via the styling settings. This already allows you to customize the must-haves of the design:
Background color
Accent color
Font
Font color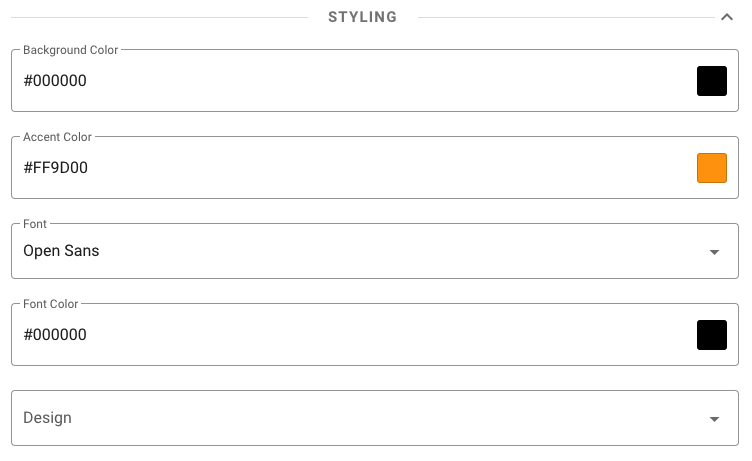 Of course, it does not have to end here. For those who want to fundamentally change the design of the polls, we have created the possibility to use CSS to adapt the design of the polls.
Thus, there are no more limits to the individual design.
Designs can be created for different votings and can also be reused.
Here is an example of how to change the design of a poll:
Poll without CSS
Poll with CSS
Conclusion
The possibilities of using design to customize your polls are almost limitless. Whether you only change the colors and fonts, or the look and feel of the polls, is up to you. However, it is important that the new design fits perfectly into the existing website.
Bonus
For all those who are now curious and want to try out the creation of a design, you are welcome to do so immediately. We have also prepared a small tutorial to help you get started.