"I don't have time or available editorial resources for that!" 🤷
We hear this statement very often now. There is an article to be written and then a poll too?! That takes time, and after all, delivering fresh, exciting content is time-consuming already.
"What topics are our readers interested in?"

"How can we attract more readers and therefore subscribers to newsletters and paid content?"

"How do we manage to retain them?"

"And is there perhaps a way to earn extra money?"
Those questions are not only discussed within the editorial team, we have also dealt with them. With the help of our technology, editorial teams should be supported in delivering new content continuously, quickly, with little effort and as automatically as possible, in attracting new subscribers for newsletters and paid content, in entertaining readers and, in the end, in earning more money.
Pinpoll Inspire in Pinpoll Tools
With the help of Pinpoll Inspire - Pinpoll's AI solution - it is now possible to create an entire pool of questions that are automatically placed in the article using our AI-powered topic recognition. The question pool is created and managed by the editor or the digital team. Our AI, in turn, selects the best question and inserts it in the article at the designated position, provided no poll has yet been inserted manually. But how does it work?
Functionality
In preparation of our implementation, we researched what topics are read most frequently. This resulted in a catalog of 289 topics relevant to the German news publishing sector. Our AI trained with almost 300,000 news articles and learned to perfectly assign these articles to those 289 topics. The AI can now apply this knowledge to any other or new articles, i.e. assign the articles to the 289 topics. However, an assignment is only acceptable to us if the calculated precision exceeds 90%.
Here are two screenshots of the Pinpoll Inspire interface in Pinpoll Tools for assigning questions to the 289 topics: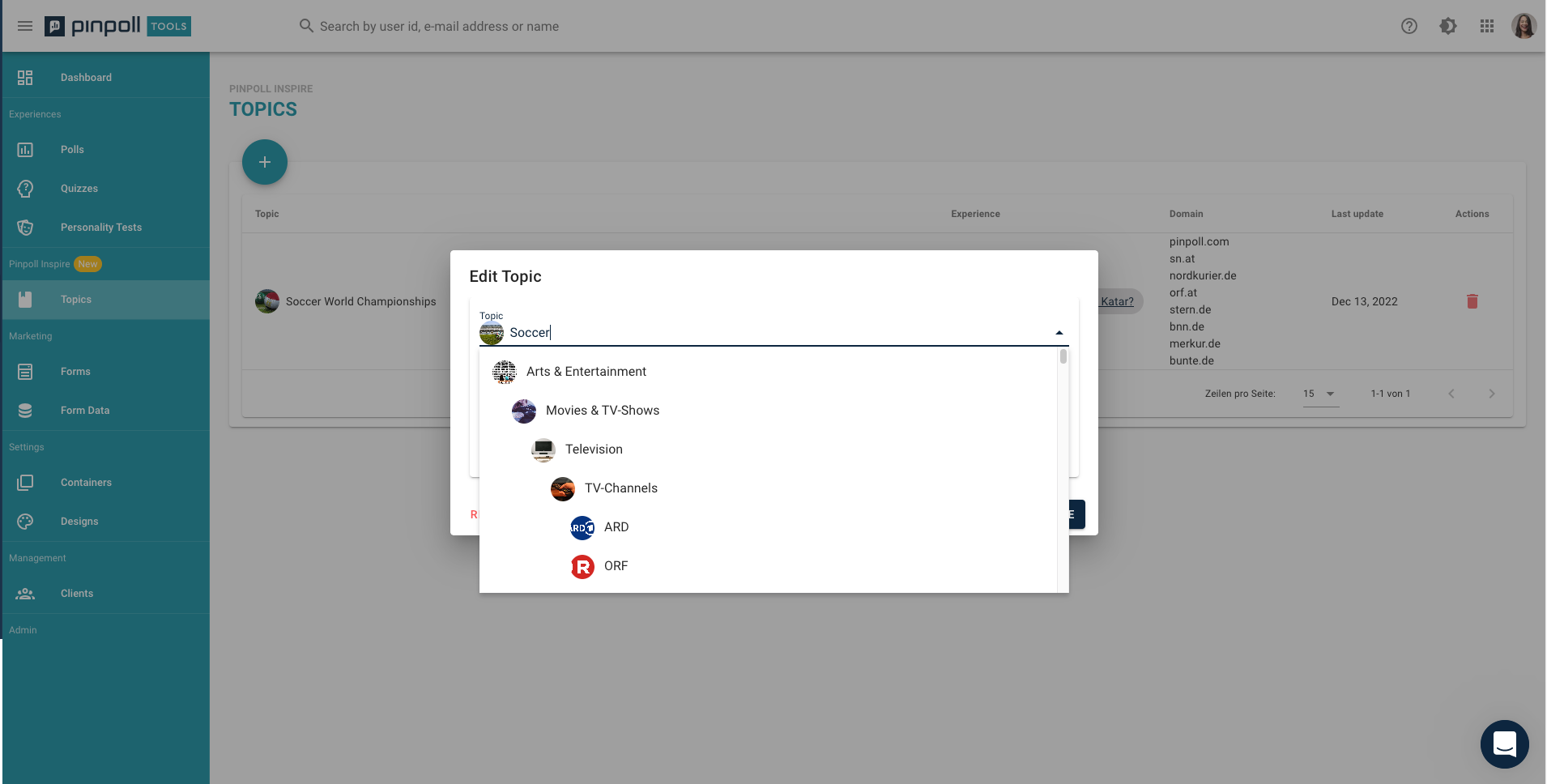 Pinpoll Inspire in Pinpoll DMP
But how does an editor or the digital team (especially at the beginning with an empty question pool) know which of the 289 topics they should focus on? This is where Pinpoll DMP comes into play, since Pinpoll Inspire has also been integrated into this product.
Functionality
Pinpoll DMP automatically assigns all page views of a publisher to the 289 topics. This creates an overview of the customer's top topics. This allows the editorial team to identify readers' interests at a glance and create questions for the most important topics in the Pinpoll Tools question pool.
Here's a screenshot of the top audiences in Pinpoll DMP's dashboard, ordered descending by the number of audiences per topic: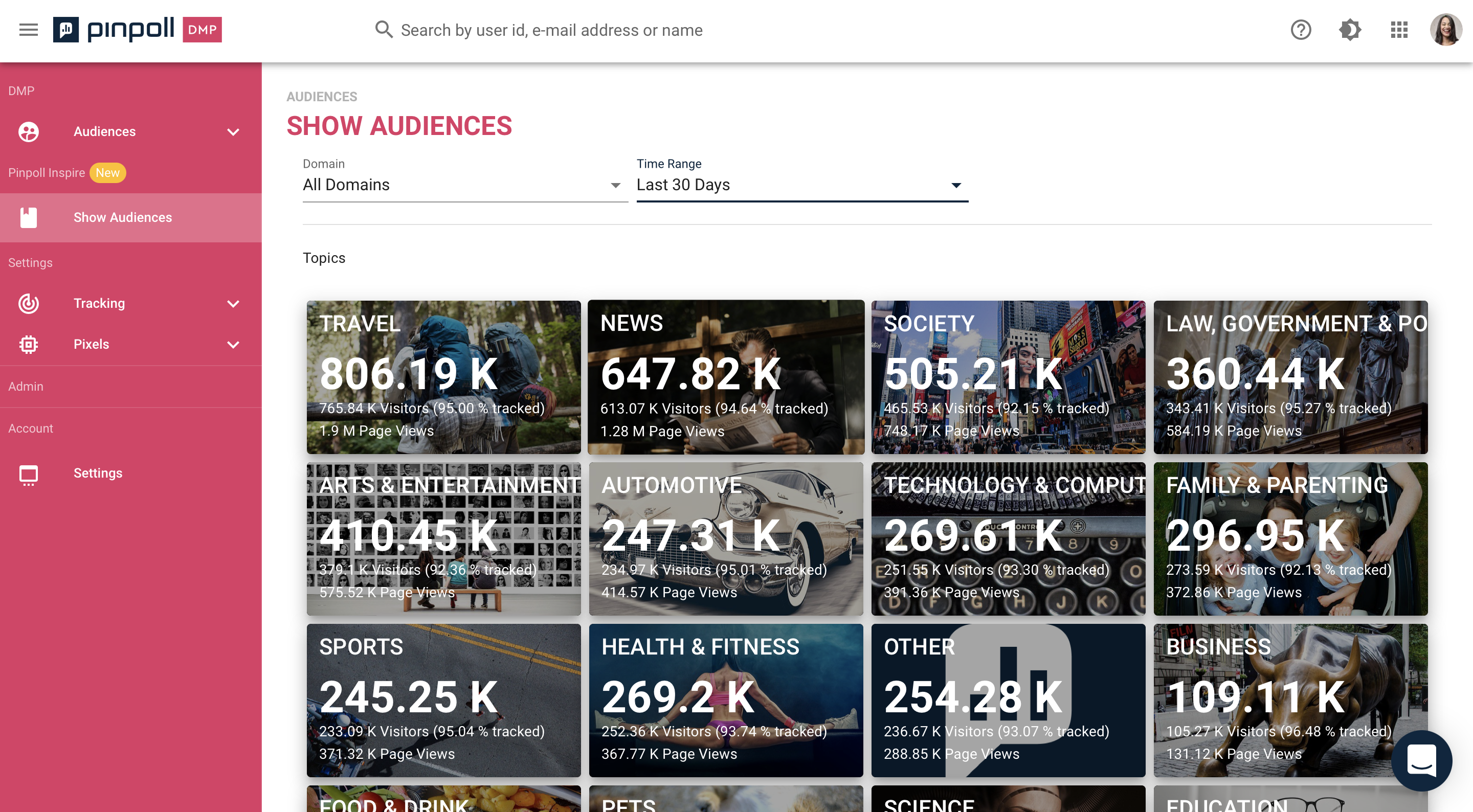 AI-Demo
You would like to try yourself what topics are recognized for your article? No problem, just use this link https://ai.pinpoll.com/classify?url= and attach the URL of your article at the end.
Note: Our model currently speaks German, only.
Customer Benefits
Our customers can improve the following metrics by using Pinpoll Inspire, since this feature results in an automatic embedding of a wide range of Pinpoll elements:
Time on site: This increases by at least 3 seconds per interaction with each Pinpoll item. Over a month, this can be quite a lot, i.e. many additional hours.
Clicks in article: Those increase with each participation in a Pinpoll survey. ÖWA and IVW tracking may also be activated to push those public figures.
Newsletter sign-ups: Pinpoll elements provide additional areas for promoting your newsletters. These areas enjoy a very high level of attention, which increases the conversion rate.
Advertising revenue: If desired, ads can also be shown in Pinpoll elements, creating additional inventory that also enjoys high visibility. This in turn has a positive effect upon the CPM.
Reader insights: Through the automatic assignment to the topic catalog, but also through the survey results themselves, exciting and relevant insights can be generated for the editorial team. Since there is also a user behind every call, it is possible to derive user profiles from the reader insights and link these, for example, with the company's own CRM data.
Efficiency Instead of Redundancy
In conclusion, we would like to state that "artificial intelligence" - by many people often only used as a buzzword in our industry - makes perfect sense here: it makes the editors's lives easier without them losing their jobs. The result is reduced workload and hence, increased efficiency, with both customers and users benefitting. That's what technology should be all about!
Sounds Interesting?
We'd be happy to do a free analysis for your website with our AI. Please reach out via e-mail to sales@pinpoll.com or via telephone at +43 664 2431024 . We are looking forward to hearing from you.